When you want to equip a garden, courtyard or terrace with atmospheric groundspots, there are a number of things that you should take into account. We therefore give you a few tips so that you too can ensure a quick and effortless installation of ground spots.
Ground spots from Hoftronic
Garden lighting comes in many different shapes, types and sizes. LED ground spots are a very popular category in LED garden lighting. They provide the necessary lighting in dark areas of the garden, but also serve as accent lighting and atmospheric lighting. Hoftronic LED ground lights are available in various variants. Round groundspots are a very popular choice but square groundspots are also a nice addition to any environment, both indoors and outdoors. 

The Hoftronic ground spots are manufactured from the highest quality materials and LED chips in order to provide energy-efficient and durable lighting and to ensure a long life span. To ensure that the LED groundspots can last longer, a good installation is very important. What do you have to consider when connecting ground lights? We explain it here for you!
The IP value of ground spots
We have already discussed the IP value of garden lights in a previous blog (click here to read it). It is a very important factor when it comes to placing ground spots in a garden. If the IP-value is not high enough for the environment, they can break down. You want to prevent that, right? So what exactly is the IP protection rating for ground spots? The IP rating stands for International Protection, and indicates to what extent the lighting is protected against dust and water. For a garden, we recommend choosing ground lights with an IP protection degree of IP67. These ground spots are namely completely dust-free and immersion-proof.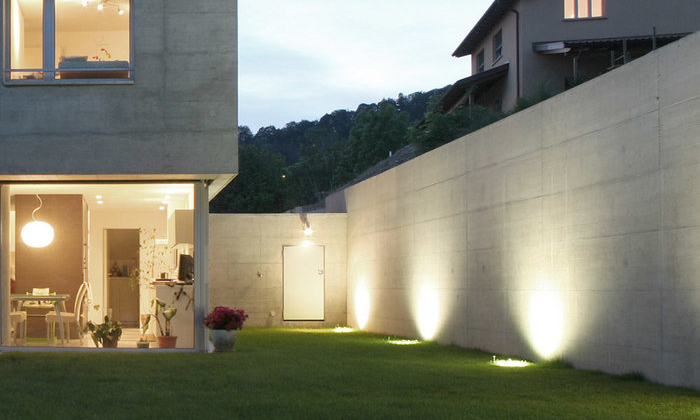 Reflection of the light
LED ground spots are mounted completely in the ground, with only the top visible. The light beam goes straight up. When you want to use the ground spots to make it clear that there is a path in the dark, for example, the ground lights can of course be mounted on the path. But when you place the ground spots in the middle of the grass, the light output will be completely lost and have no effect. The ground spots stand out best when the light is reflected against an object. Think of a tree, hedge, fence, wall or facade. This ensures that the object is additionally illuminated, but also provides a beautiful lighting effect.
Waterproof cable connection
You do not usually install just one LED ground spot. You place them in sets spread across an area. Then of course you want to be able to switch all the ground spots on and off with one push of a button. To do this, you have to connect the ground lights to each other by connecting the cables. It is important that the connections are watertight. You can achieve this with junction boxes that you fill with resin, but we at Hoftronic think this is something of the past. You can make it easy for yourself by using the Hoftronic IP68 waterproof cable connectors. With these waterproof cable connectors, you can have your cables connected within two seconds. They can also be placed in the ground without any problems. Why make things difficult when they can be easy?

Underground
When placing ground spots, it is important to take into account the surface that you are dealing with. We recommend placing the groundspots on a flat surface, and do not recommend placing them in a pit. When ground spots are placed in a pit, you risk the spot being flooded for a long time when it has rained. If the groundspots are not completely watertight, they can be damaged.

| | |
| --- | --- |
| When you have found a place where you are going to place the groundspots, it is advisable to first put a layer of approximately 30 cm of gravel in the hole where you are going to place the spots. This ensures that the rainwater can run off better and faster and the groundspots do not remain in the water. | |
In short, if you ensure that the ground spots are installed in the correct manner, as watertight as possible, you are guaranteed years of pleasure from the ground spots.
Ask your questions to LED wholesaler Hoftronic!
Do you still have questions about the installation of LED ground spots? Then you can always contact us for advice. Feel free to contact us by calling +31853031151 or sending an e-mail to [email protected].