LED Floodlight solar
LED floodlights solar for green energy and lots of light output. These floodlights have a solar panel which charges the build in battery of the floodlight. Now up to 10.200 lumens of light output.
Read more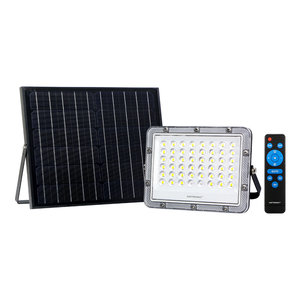 50, 100, 150 of 200 Watt
410, 800, 1900 of 3200 Lumen
Smart en solar uitgevoerd
IP65
5 years warranty
Hoftronic LED floodlights solar
The Hoftronic LED solar floodlights are extremely energy-efficient and durable. They work on solar energy. Green energy is becoming increasingly popular. Therefore, switching to an LED solar floodlight is an excellent lighting solution.
Solar-powered LED floodlight
A solar LED floodlight is a very economical lighting solution. The floodlight is equipped with a solar panel that stores solar energy in a battery. This battery provides the energy on which the LED floodlight runs.
IP65 solar floodlights
The LED solar floodlights are highly suitable for outdoor use. This has to do with the high IP-value of IP65, which makes the LED solar floodlights jet-waterproof. The solar LED floodlights also have a high protection level of IK06, which means they can easily take a hit.
Hoftronic, the professional LED wholesale trade
The Hoftronic LED solar floodlights are not the only LED floodlight in the Hoftronic assortment. The following LED floodlights are also available:
Are you looking for a LED lighting wholesale company? Then you have come to the right place at Hoftronic. At Hoftronic, you are always assured of large stocks, professional advice and technical support, fast deliveries, and innovative LED lighting at a competitive price. Please contact us by calling +31853031151 or send an e-mail to [email protected].