When selecting outdoor lighting, there is one important thing you should pay attention to: the IP value. The IP value indicates how well the lighting is protected against dust and water. The IP protection class consists of IP and two digits. IP stands for International Protection. The first digit indicates the extent to which the lamp is protected against dust and contact. This runs from 0 to 6, with 0 being very unprotected and 6 being dust-free. The second digit indicates the extent to which the lamp is protected against water and moisture. With a protection rating of 0, water and moisture can easily enter the luminaire. At a maximum protection rating of 9, the lamp is completely watertight.
What is the appropriate IP value for outdoor lighting?
When to choose an IP44 garden light and when to choose an IP67 garden light? With LED outdoor lighting, it really depends on where the lighting is placed.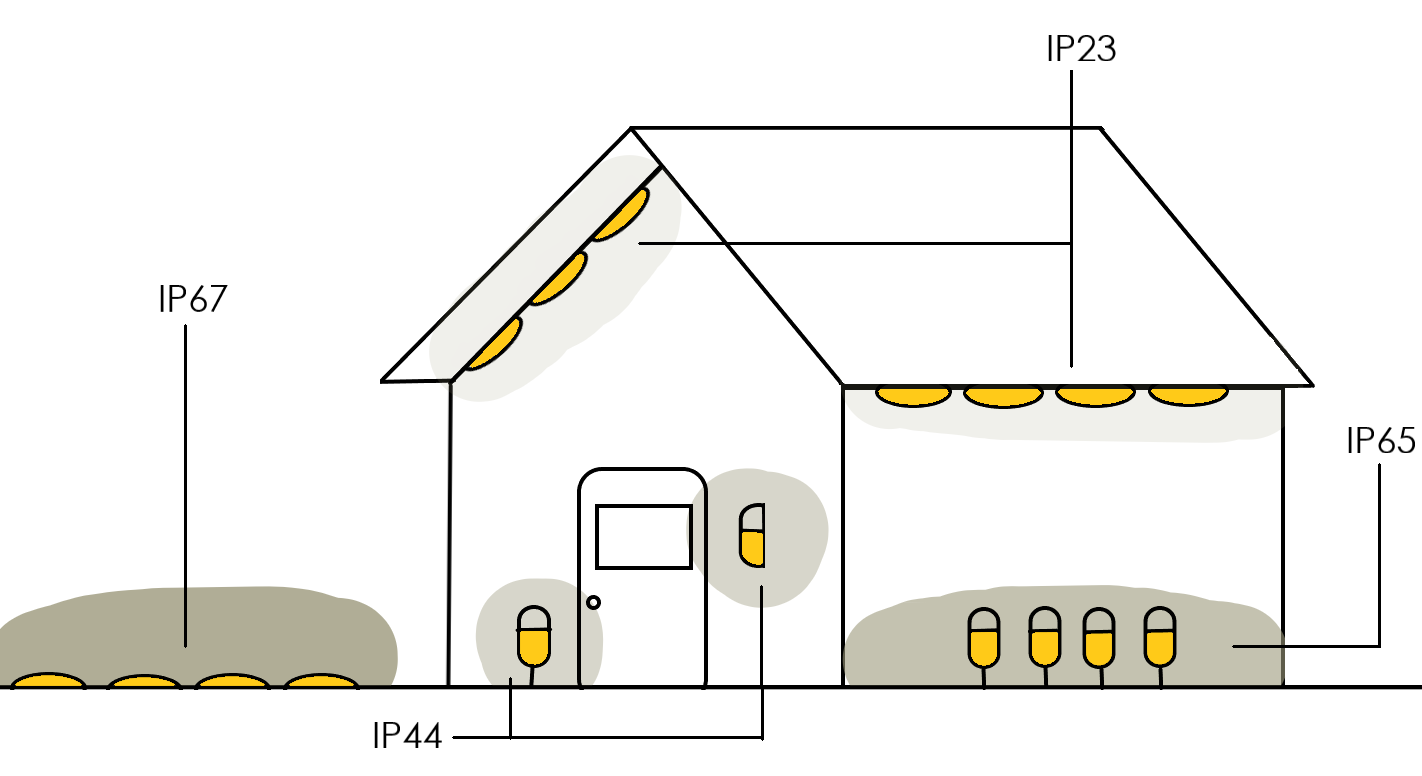 Minimum IP23: Under a canopy, in a porch or gutters where the lighting does not come into contact with water, but only with water spray and humidity.
Minimum IP44: The LED lighting is mounted in a place where it is directly adjacent to the house as façade lighting, and the lamps are thus additionally protected. Think of wall lights and garden spots.
Minimum IP65: IP65 applies to outdoor lighting that comes into direct contact with rainwater. This includes garden spikes, lanterns and string lights that are not sheltered.
Minimum IP67: These lamps come into direct contact with rain, hail, snow and dust. It is therefore important that these LED outdoor lamps are fully protected against water. Ground spots that are placed in the ground where the ground is a little deeper, must be submersible because a layer of water can remain on them.
Hoftronic LED Outdoor Lighting
Facts and myths about LED Outdoor Lighting
Myth 1: LED outdoor lighting must be waterproof.
Garden lighting can be splashproof or jetproof. When outdoor lighting is completely waterproof, it has an IP value of at least IP67. These are lamps that can be placed in water. For normal LED outdoor lighting, an IP value of IP65 is more than enough when the lamps are mounted in the open air and come into direct contact with rain.
Myth 2: IP65 is sufficient for LED ground spots.
When an LED ground source is placed in a garden, it is important to take into account the situation in the surroundings. If the ground source is located in an area where rainwater cannot flow away from the ground source, it is possible that the ground source will be flooded for a short period of time. A water protection degree of IP65 is not sufficient for these kinds of situations. The ground spots must be submersible or watertight. A protection degree of at least IP67 is recommended.
Myth 3: Watertight connections cost a lot of time and work.
Not with the Hoftronic IP68 cable connectors. Many people think that they need to use a junction box to connect the garden spots to each other. When a junction box is used, it is intended to fill it with resin in order to make the connection watertight. With the Hoftronic IP68 cable connectors, this is a thing of the past. With the simple plug & play connection, the LED garden spots are simply linked to each other.
Get advice from Hoftronic, the LED lighting wholesaler
Are you working on a large construction project and don't know which LED outdoor lighting is most suitable? Don't worry, we are always ready to answer your questions. Let our LED experts advise you. As LED wholesaler, we put our customers first. You will always receive professional advice, technical support when needed, and the best prices. Contact us by calling +31853031151 or sending an e-mail to [email protected].