The terrace season is open again! Now that the sun is starting to shine, people want to enjoy a drink on a terrace. A good atmosphere is of course very important. Do you have a restaurant or bar with a terrace, then you also want to make sure that the terrace looks good? We have the golden tip for you: string lights!
What do you need to know about a string light?
String lights, what are they? With a string light you can give your terrace or garden extra atmosphere. String lights are also called light garlands. These are atmospheric cables from which several lights hang. The various cables available at Hoftronic are the E27 string light which can be used to suspend 15 E27 LED bulbs and the RGB string light which is equipped with cheerful RGB bulbs.
String light with coloured bulbs
How cosy is a terrace with coloured lamps? You see them for example in Mexican restaurants. The coloured lights create a festive feeling. It does not even have to be dark, the coloured string lights are an atmospheric addition during the day as well.
5 Frequently asked questions about string lights
Let us answer a few frequently asked questions about the string lights for you:
1. Are the string lights suitable for outdoor use?
Yes, the Hoftronic string lights are suitable for indoors and outdoors. This is due to the IP protection level of the cables. This is at least IP65, which makes the cables jet-waterproof. So don't worry about a rainstorm or a garden sprinkler.
2. Do Hoftronic string lights last long?
Hoftronic's string lights have a life span of at least 20,000 hours. This means that you can enjoy the atmospheric LED string lights for years.
3. Are the string lights without lamps suitable for LED?
When you choose to use LED lamps for the string lights supplied without lamps, it will ultimately be a lot cheaper than when using halogen lamps for the string lights. LED bulbs are economical and durable in use and of better quality. In addition, LED lamps are much safer than halogen lamps because they do not contain any harmful substances.
4. How can I easily mount a string light?
Mounting a LED string light does not have to be complicated. The string lights are equipped with eyelets at the top of the cable. You can use a tie-wrap to fix the string light via the eyelets to an object such as a pole or the fence. What creates an extra atmospheric terrace is when you span the string lights completely from one side to the other. Or hang the string lights from a parasol. You can be as inventive as you like with the string lights.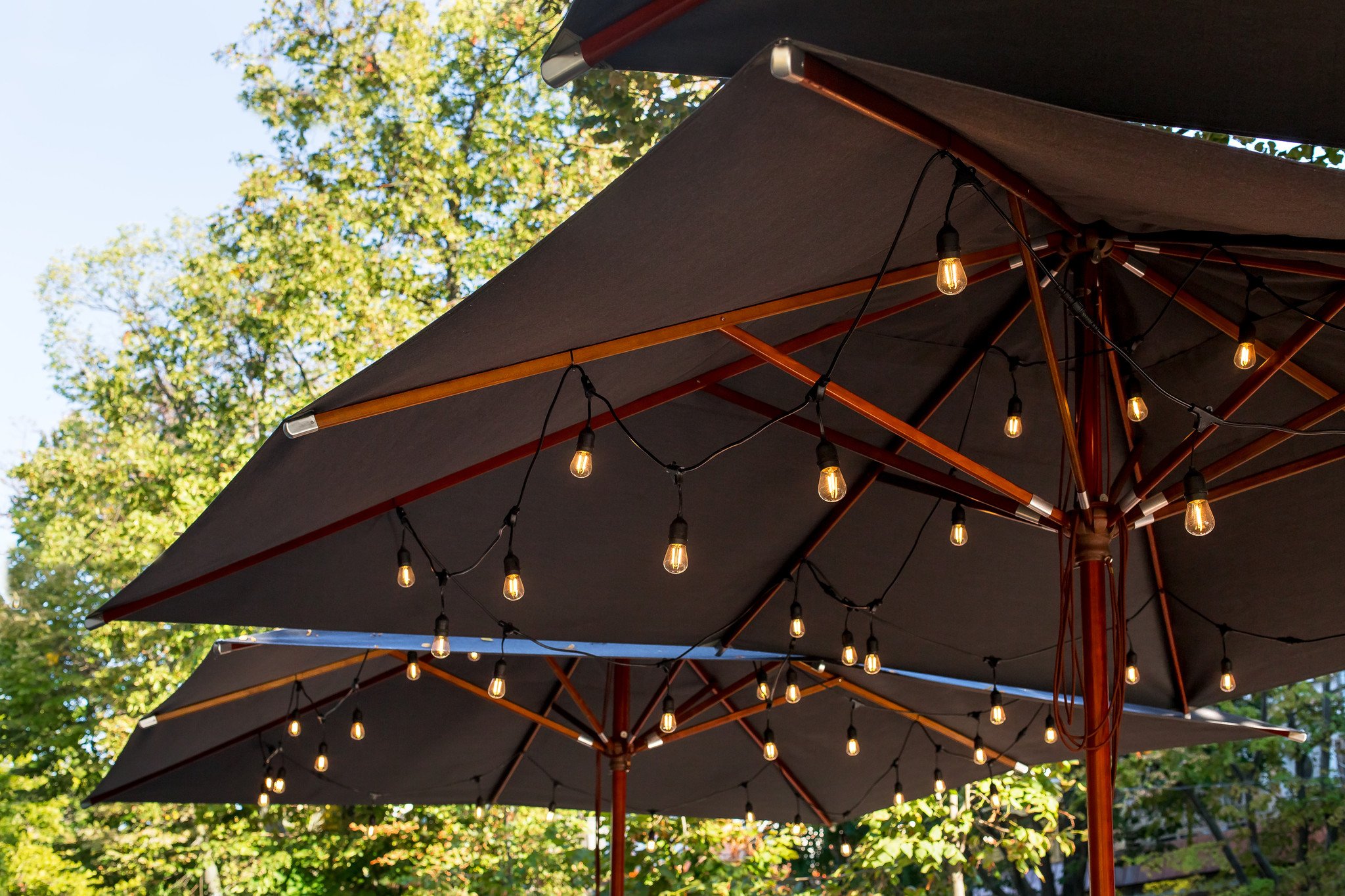 5. Is it possible to connect several string lights to each other?
This is certainly possible with the Hoftronic cables. If a larger area is to be decorated with atmospheric garlands of light, it is of course more convenient to use one long garland of light. 
Dimming a string light for extra ambience
Hoftronic's string lights are dimmable. This means that the light intensity of the strings can be adjusted. The dimmability of LED lighting offers many possibilities. It provides extra economy because the lamps do not always have to be on at 100%. In this way, the lifespan of the lighting can also be extended.
Dimmable string lights also ensure that the lighting fully blends in with the surroundings. For extra ambience and cosiness, it is nice to dim the LED string lights.
Hoftronic, the wholesaler in LED lighting cables
Where do you buy LED string lights? At Hoftronic, of course! Hoftronic offers high quality, long-lasting and durable LED string lights. If you are looking for atmospheric lighting for your terrace, we recommend Hoftronic's string light. For all your questions, please do not hesitate to contact us. Call +31853031151 or send an e-mail to [email protected].