Smart LED Garden spikes
With the SMART LED garden spikes you can create a nice looking exterior to your house or property. This way you can adjust the colour of the lamps to any occasion and dim them without a wall dimmer.
Read more

IP65
2700K - 6500K + RGB
Dimmable
WiFi + BLE
5.5W - 345lm
Anthracite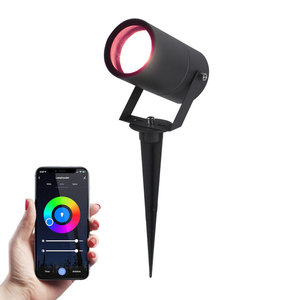 IP65
2700K - 6500K + RGB
Dimmable
WiFi + BLE
5.5W - 345lm
Black
Smart garden spike light
Smart LED garden spikes are a nice addition to any outdoor environment. Not only because the smart garden spikes available at Hoftronic are modern in design, but also in functionality. The smart LED garden lights can be operated with a smartphone, tablet or smart assistant of your choice.
Smart garden spike as garden lighting
Smart LED garden lights are the ideal garden lighting. Why? The smart LED garden spike lights are fully adjustable. The smart LED garden lights are adjustable in no less than 16 million RGB colours and in colour temperatures from extra warm white light to daylight white light. So everyone can apply their own style to their front or back garden. The smart LED garden spikes have an IP-value of IP65, which means they are jet-waterproof and thus protected against bad weather conditions.
Smart LED spike lights provide convenience
Not only are smart LED garden spikes a fun way to light up the backyard, they also come with a number of handy features that add to everyday convenience:
Direct control anywhere and anytime. The smart garden spikes can be directly controlled via a smartphone. It does not matter where you are.
Timer and schedule function. The smart garden spikes can be set to a timetable so that you no longer need to look at the lights. The lights are switched on and off at a fixed time.
GEO fencing. With GEO fencing you can set the smart spike lights to automatically switch on when you are in the vicinity of the set distance. For example, you can be 500 metres away from the house, after which the smart spike lights will automatically switch on.
Hoftronic smart garden lighting
The smart LED garden spikes are not the only smart products available at Hoftronic. For more smart garden lighting, take a look at the smart ground spots, smart wall lights and smart solar lamps.
Wholesale of smart garden lighting
Hoftronic is the LED lighting wholesaler with a wide range of smart LED garden lighting. As a customer of Hoftronic, you will always receive the best prices, fast delivery, professional advice and technical support. Do not hesitate to contact us by calling +31853031151 or sending an e-mail to [email protected].