LED Street lighting
LED street lighting is ideally suited to provide car parks and outdoor areas with sufficient light, it promotes safety and is suitable for preventing burglaries.
Read more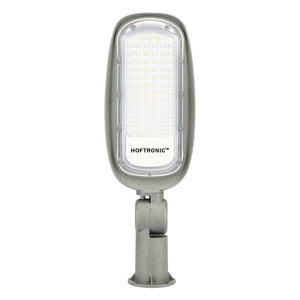 50, 100, 150 of 200 Watt
5500, 11.000, 16.500 of 22.000 Lumen
4000K or 6400K
Corrosion-resistant
Tiltable
5 years warranty
Wholesaler in LED Street Lighting
Street lighting is not what it used to be. Now, street lighting is being replaced by LED street lighting. This is more economical and more durable, but the light output is also of a higher quality. Hoftronic LED street lighting is economical in terms of energy consumption and has a high light output. This makes the Hoftronic LED street lighting ideal for outdoor environments where lighting is necessary and can provide extra safety in the environment.
Hoftronic LED street lights
Hoftronic LED streetlights are extremely economical. They have an energy consumption ranging from 50 Watt to 100 Watt and have a high luminous flux of up to 11,000 lumens. The high light output at low energy consumption is possible thanks to the high-quality LED chips integrated in the luminaire. Hoftronic's LED streetlights can be used as traditional street lights on a pole or mast but can also be mounted on a building. Because Hoftronic's LED streetlights are tiltable, it is possible to determine the beam angle of the outdoor lights. You can determine yourself where the light should shine.
Application possibilities of LED street lighting
LED street lighting is an excellent source of light for natural lighting in the street, but also in public places. Because Hoftronic LED street lighting can be installed in various ways, it can also be used for a wide range of applications. LED street lighting is suitable for the following areas:
On the street as street lighting
Car parks
Public parks
Squares
Shopping streets
Receive technical support from Hoftronic
At Hoftronic, we not only offer the most innovative, sustainable and energy-efficient LED lighting to our customers. We also offer our customers the best service. As a customer, you will benefit from our large stocks which enable us to deliver quickly. Hoftronic also offers the sharpest prices, unique and innovative LED products, professional advice and technical support. Do not hesitate to contact us. You can reach us by phone at +31853031151 or send an e-mail to [email protected].